CHELINES MISTER-WORLD FOR KRISTEC.
Spencer born 30th June 2011 arrived with Kristec in June 2012. 
Having seen photos of Champion Chelines The Boss some 5 years ago, I have always dreamt of having a Chelines dog and these lines in my home.
I have watched from afar these famous dogs from the Spanish Chelines Kennels, bred and owned by Alberto Velasco.
In October 2008 I had the great pleasure of going to Schnauzerdreams Kennels and meeting the owners Oriol Roter and Mabel Llopis, where I got to meet Champion Chelines The Boss and Champion Chelines Little Big Man, and several other Chelines Bred Miniature Schnauzers. I was like a litle girl in a sweet shop. I imported my first pepper and salt mini from the Schnauzerdreams kennel.

 
Qualifed for Crufts 2014 at his first Championship Show.
Current Clear Eye Certificate: 26.07.2012
Spencer has now produced his first 2 litter and is available for stud to pepper and salt bitches only.
FCI MULTI CHAMPION SCHNAUZERDREAMS ONE DAY I'LL FLY AWAY .
Ollie - Born 5.11.2009 in Schnauzerdreams kennels in Spain near Barcelona, arrived here October 2010, via Slovenia and the Euro Show where he was awarded a very good  in Junior Dog.
               Thank you Oriol and Mabel.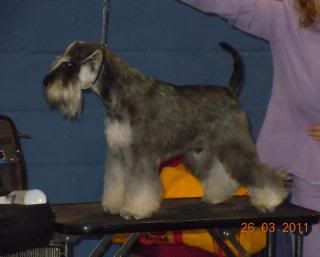 At his first show here in England, 26.03.2011, Schnauzer Club of Great Britain, he won post graduate male and qualified for Crufts 2012.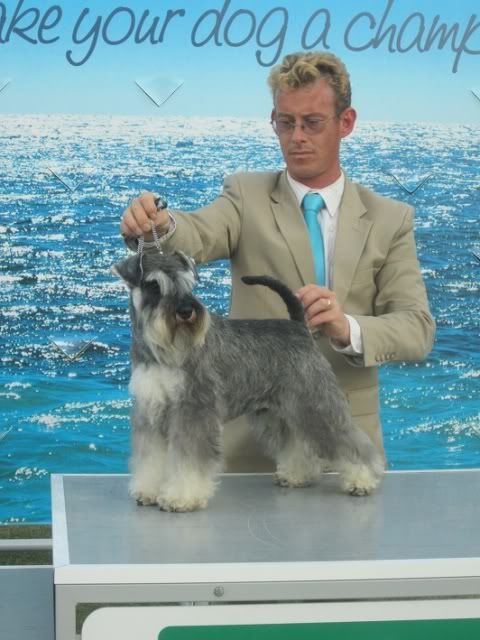 In September 2011 Ollie travel with Justin Carroll to the Black Sea Show Circuit, where he had many wins and became an FCI Multi Champion.
Ollie now a Champion has retired from the show ring and is enjoy agilty.
RELATIVES - Sire and Dam.
 

CH Schnauzerdreams Catalunya Triumfant.

Euro Junior Champion 2010 WW CH 2011.

 

 

  Tajinastes Chica de Ipaneria.

 

 
 

GIB CH, LUX CH, PRT CH

Spanish CH Chelines Little Big Man

Euro Champion 2008 WW 2011.

 

Chelines Pure Poison.

 

 

Spanish CH Risepark 'N' Tajinastes

Euro Champion 2005.

  

 

Spanish Champion

Tajinastes Made-In -Canary

Euro Champion 2005.